Site last updated 23 August 2017
Welcome
The Shropshire Association covers the towers in the Salop Archdeaconry of the Lichfield Diocese, and is roughly the area north of the River Severn, from near Wolverhampton in the southeast to Selattyn in the northwest. The rest of Shropshire is in the Hereford Diocese.
Information about the towers in the Association, practice nights and Association events, and much else, can be found by following the links on the left or below.
Shropshire Young Ringers
Do you have young ringers at your tower?
We have started a youth group designed to get the young people ringing together and help them to progress.
There have been three practices so far attended by six ringers from different towers across the Association area and we hope to have a regular monthly practice going forward.
The leader is ART (Association of Ringing Teachers) trained and DBS cleared and can offer instruction in bell handling through to ringing call changes, plain hunting, methods and striking.
The aim is to encourage the next generation of ringers and recruit more young people to the exercise.
Please contact Matt Lawrence youngringers@sacbr.org.uk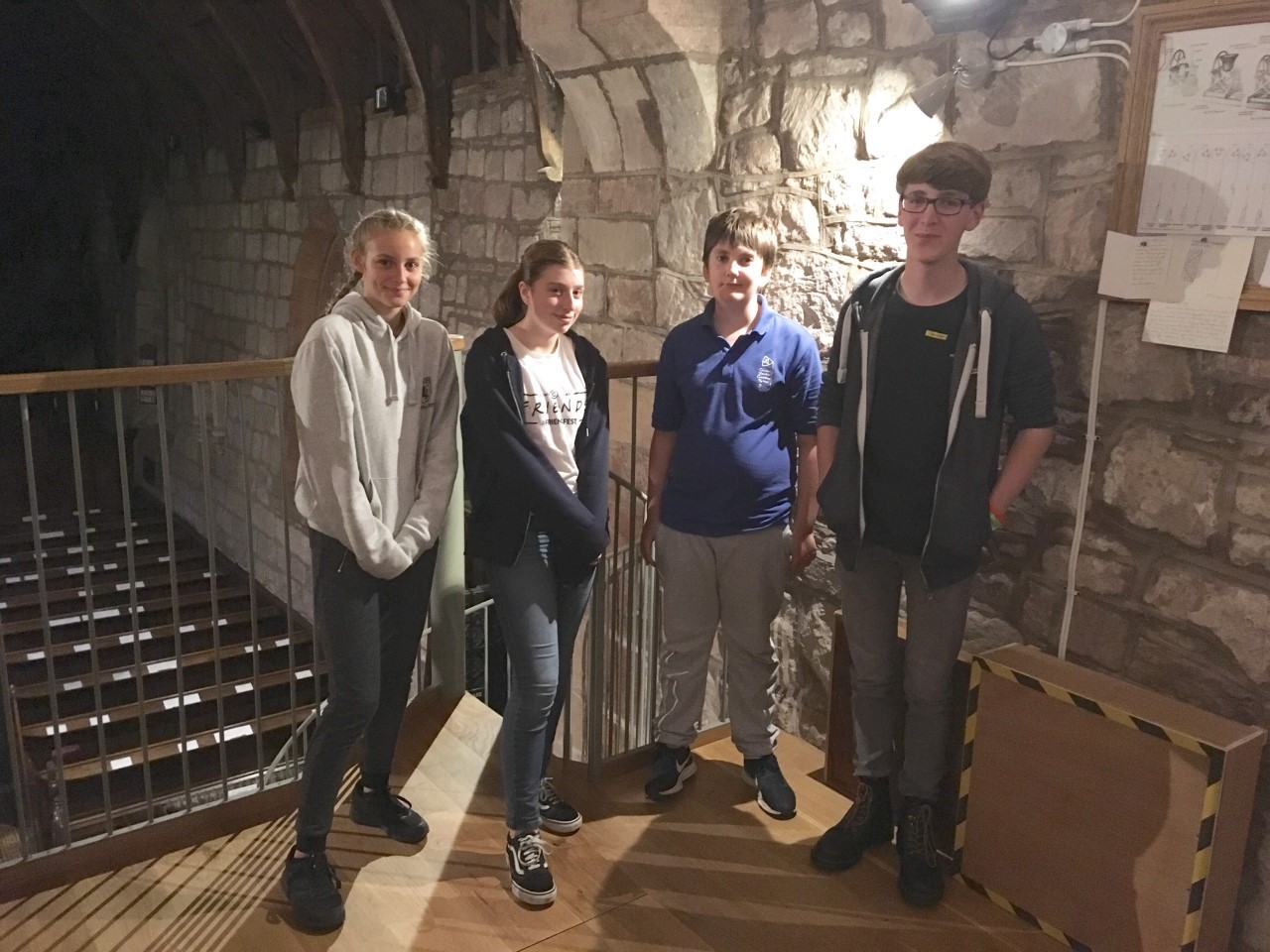 Young ringers at Atcham
Text by Gail Lawrence
Photo by Matt Lawrence
August 8-Bell Practice
A record number of ringers attended the August 8-bell practice at St Luke's church, Hodnet. The ringing included plain courses of plain hunt on 7 and on 8, Plain Bob Triples, Grandsire Triples, Stedman Triples, and Plain Bob Major. The Ringing Master is grateful to the more experienced ringers who came along to help.
The towers represented included Baschurch, Clive, Codsall, Edgmond, Lilleshall, Market Drayton, Shrewsbury, Wellington, Wem, Whitchurch, and Wrockwardine.
Thanks to John Powell for allowing the use of the bells.
The next 8-bell practice is planned for 7th October, at a venue yet to be organised.
July Surprise Major Practice
Fifteen ringers, including a visitor from Haywards Heath, plus a very young baby, travelled to Edgmond on a wet Friday for this practice. The ringing included Bristol, Glasgow, Lessness, Lincolnshire, Rutland, and 4-spliced.
Thanks to Rev. Preb. Edward Ward for allowing the use of the bells.
The next Surprise Major practice is scheduled for Friday 25th August at Wem.
Bicton Practices Cancelled
There will be no regular practices at Bicton until Monday 18th September.
Clive/Wem Practices Cancelled
There will be no regular practices at Clive and Wem until Friday 1st September, when the practice will be at Wem.
Two Peals in One Day (3)
The thirteenth and fourteenth Association peals of the year were rung on 22 July, at Ryton and High Ercall. The peals marked four significant birthdays totalling 190 years. The peal at Ryton resulted in Andrew Gordon equalling Ann Williams as the two most prolific current member ringers of peals for the Association. The peal at High Ercall was the work of an up and coming composer.
Shropshire Association
Ryton, Shropshire - at the Church of St Andrew
On Saturday, 22 July 2017
A Peal of 5040 Minor
Four methods: Two extents each of Kent Treble Bob, Cambridge Surprise, Plain Bob,
one extent of St Clement's College Bob. All different callings.
Tenor 4-2-23 in Bb
| | | | | |
| --- | --- | --- | --- | --- |
| Nicola J Galton | Treble | | Elizabeth S Menhinick | 4 |
| Peter Neil | 2 | | Anthony J Freemont | 5 |
| Cordelia Warr | 3 | | Andrew W Gordon | Tenor |
Conducted by Andrew W Gordon.
To celebrate the 50th birthday of 3, & 40th birthday of 4.
1049.RW5545.770 4.viii.2017
Shropshire Association
High Ercall, Shropshire - at the Church of St Michael and All Angels
On Saturday, 22 July 2017, in 3 hours 1 minute
A Peal of 5056 Plain Bob Major
Composed by Maurice G Ingram
Tenor 10-2-8 in F#
| | | | | |
| --- | --- | --- | --- | --- |
| David R Ingram | Treble | | William S Deason | 5 |
| Nicholas J Green | 2 | | Maurice G Ingram | 6 |
| Elizabeth (Biff) Patterson | 3 | | Gail K Lawrence | 7 |
| Paul J Lewis | 4 | | Matthew Lawrence | Tenor |
Conducted by Gail K Lawrence.
Arranged as a 70th birthday compliment to Maurice Ingram
and a 30th birthday compliment to Chloë Darby.
This composition is believed to be rung for the first time.
1050.RW5545.770 4.viii.2017
July Association Practice and Quarterly Meeting
These took place at Montford on a lovely July evening. Twenty two ringers attended and the ringing included call changes, plain hunt on 5 and 6, Plain Bob Doubles, Plain Bob Minor, Grandsire Doubles.
The meeting was held in the church. Eric Millington (Albrighton) was elected as a member of the Association.
In the absence of Cordelia War, Madeline Harris spoke about the Ceilidh to be held at Shawbury on Saturday 18 November, from 7:30pm to 11pm. Tickets will cost £10 (£7.50 for 12s and under).
Madeline also gave the Training Officer's report in Tony Freemont's absence. Tony is planning to hold a Grandsire and Stedman (Doubles and Triples) training at Oswestry on Saturday 2 September. The next 8-bell practice will be at Hodnet on Saturday 5 August from 10am to 12 noon. There are still places available for the Training Morning to be held at Edgmond on Saturday 16 September, from 9:30am to 12:30pm; contact Tony [email] if you would like to attend.
Madeline reminded those present about the Association's Striking Competition, to be held on Saturday 9 Septemebr at Ightfield, starting at 4pm. Please let Jad Bienek [email] know by Sunday 3 September if your tower will be entering a band.
Peter Woollam reminded members that the Central Council produces guidance notes on many subjects including Health & Safety, Risk Assessments, and Safeguarding. The Central Council has also produced a publication called 'Bells In Your Care', available online only, for incumbents and churchwardens. The publication can be found at www.cccbr.org.uk/wp-content/uploads/2016/03/bells-in-your-care.pdf.
Andrew Gordon spoke about Jim Thomsett, a ringer at Albrighton, who had died on 20th June at the age of 82. A quarter peal had been rung on the day of his funeral.
Ann Williams raised the subject of ringers' insurance There was discussion about the need for insurance when visiting other towers and the costs of this insurance. It was suggested that the item should be added to the agenda for the next committee meeting. It was noted that, several years ago, the Association voted not to purchase insurance.
Peter mentioned that several churches had been approached by telecommunications companies about installing masts on their towers. Useful information is available from Peter.
Madeline reminded the meeting that nominations for Honorary Life Membership should be sent to Jad [email] no later than 31st August so that the committee can review the nominations at its meeting on 3 September.
Peter Woollam raised £33 for the BRF from the sale of raffle tickets. Prizes of freshly-picked gooseberries and various forms of alcohol were won by Clive Morris, Sue Dancey, Peter Woollam, Brian Kear. Peter thanked those who had donated prizes.
Brian Kear carried out the draw for the 100+ Club. The winners of the second draw of the year are: Gill Glover (£50), Simon Rice (£25), Claire Unsworth (£15), Steve Evans (£15), Judith Byne (£12) and John Neal (£10).
Thanks go to Tricia Jones for opening up the tower and church, and for providing drinks and delicious cakes. Thanks also to Paul and Edwina Smart for their help in checking the ropes and cleaning the ringing room.
The next Monthly Practice will be held at Worthen on 19 August, from 6:30pm to 8:30pm.
The next Quarterly Meeting will be held at Wrockwardine on Saturday 14 October.
Wedding Anniversary Peal
The twelfth Association peal of the year was rung at Cheswardine to celebrate the 45th wedding anniversary of Lynn and Peter Hall.
Shropshire Association
Cheswardine, Shropshire - at the Church of St Swithun
On Saturday, 8 July 2017, in 3 hours
A Peal of 5152 Spliced Surprise Major
23 methods: 224 each Ashtead, Bristol, Cambridge, Cassiobury, Cornwall,
Cray, Double Dublin, Glasgow, Ipswich, Jersey, Lincolnshire, Lindum,
London, Preston, Pudsey, Rutland, Superlative, Tavistock, Uxbridge,
Watford, Wembley, Whalley, Yorkshire; 160 com, atw
Composed by N Smith
Tenor 8-3-5 in G
| | | | | |
| --- | --- | --- | --- | --- |
| Stuart C W Hutchieson | Treble | | Nicholas J Green | 5 |
| Neil Bennett | 2 | | Michael Wilshaw | 6 |
| Elizabeth Hutchieson | 3 | | Matthew Lawrence | 7 |
| Gail K Lawrence | 4 | | Andrew C Ogden | Tenor |
Conducted by Stuart C W Hutchieson.
45th wedding anniversary compliment to Peter (tower captain) and Lynn Hall.
1048.RW5543.724 21.vii.2017
Two Peals in One Day (2)
The tenth and eleventh Association peals of the year were rung on 1 July, at Bishop's Castle and Churchstoke. They resulted in Ann Williams becoming the most prolific current member ringer of peals for the Association.
Shropshire Association
Bishop's Castle, Shropshire - at the Church of St John the Baptist
On Saturday, 1 July 2017, in 2 hours and 37 minutes
A Peal of 5040 Minor
7 methods: One extent each of Cambridge Surprise, Kent Treble Bob,
Oxford Treble Bob, St Clement's College Bob, College Bob,
Grandsire and Plain Bob.
Tenor 8-2-18 in A
Shropshire Association
Churchstoke, Montgomeryshire - at the Church of St Nicholas
On Saturday, 1 July 2017, in 2 hours and 43 minutes
A Peal of 5040 Doubles
11 methods: Four extents each of St Martin's Bob, St Simon's Bob, Eynesbury Bob,
St Osmund Bob, Winchendon Place, St Nicholas Bob, St Remigius Bob,
Huntley Place, Reverse Canterbury Pleasure Place, Plain Bob;
240 Grandsire
Tenor 8cwt in Bb
1047.RW5542.698 14.vii.2017
Honorary Life Membership
July 6-Bell Practice
June Surprise Major Practice
Tower Access Guidance Notes
CRAG FAQ
CRAG Final Report
PowerPoint Presentations for PR
100+ Club
Safeguarding Update
VAT and Listed Places of Worship Grant Scheme
Peal Opportunities
Quarterly Newsletter
Association Monthly Surprise Major Practices
Training at Edgmond Ringing Centre
Committee Meeting
Newsletter Editor